Andy Williams

Moon River
And Other Great Movie Themes
Label: Columbia ‎– CS 8609
Format: Vinyl, LP, Reissue, Stereo
Country: US
Released: 1962
Genre: Jazz, Stage & Screen
Style: Easy Listening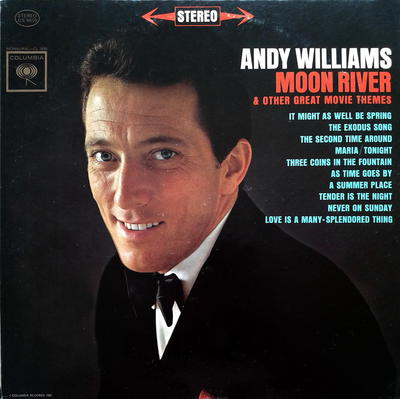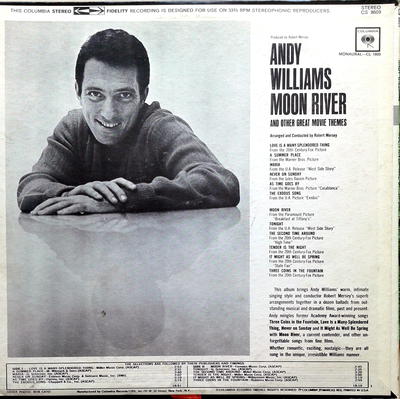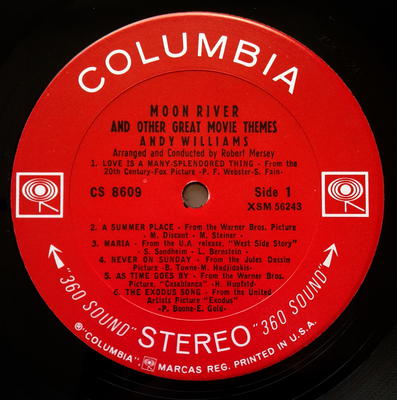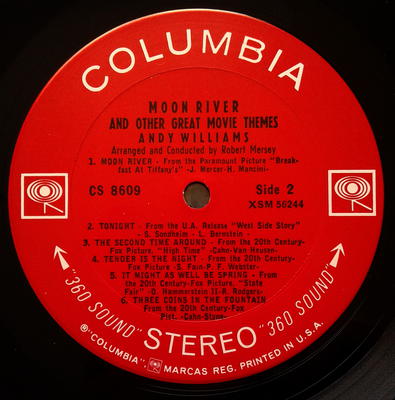 Side one:
1."Love Is a Many-Splendored Thing" (Sammy Fain, Paul Francis Webster) – 2:55
2."The Theme from A Summer Place" (Mack Discant, Max Steiner) – 2:38
3."Maria" (Leonard Bernstein, Stephen Sondheim) – 3:43
4."Never on Sunday" (Manos Hadjidakis, Billy Towne) – 3:02
5."As Time Goes By" (Herman Hupfeld) – 3:11
6."The Exodus Song (This Land Is Mine)" (Pat Boone, Ernest Gold) – 3:16
Side two:
1."Moon River" (Henry Mancini, Johnny Mercer) – 2:46
2."Tonight" (Leonard Bernstein, Stephen Sondheim) – 2:37
3."The Second Time Around" (Sammy Cahn, Jimmy Van Heusen) – 3:23
4."Tender Is the Night" (Fain, Webster) – 3:05
5."It Might as Well Be Spring" (Oscar Hammerstein II, Richard Rodgers) –3:11
6."Three Coins in the Fountain" (Cahn, Jule Styne) – 2:55
Personnel:
Robert Mersey – arranger, conductor, producer
Andy Williams - vocals
Photography By [Cover] – Bob Cato
Notes
This release is on a "two eye" label.
360 Sound
Moon River and Other Great Movie Themes is an album by American pop singer Andy Williams that was released in 1962 by Columbia Records. It made its first appearance on Billboard magazine's Top LP's chart in the issue dated May 12 of that year and remained on the album chart for 176 weeks (the longest chart run of any of his albums), peaking at number 3.
The album received Gold certification from the Recording Industry Association of America on October 14, 1963, and thus became Williams's earliest recording to achieve this honor but not, however, the first to do so. His Days of Wine and Roses and Other TV Requests album, which was released in April 1963, received its Gold certification just one month prior to this one.
Moon River and Other Great Movie Themes was released on compact disc for the first time by Columbia in 1987. It was also released as one of two albums on one CD by Sony Music Distribution on May 15, 2001, the other album being Williams's Columbia album from February 1962, Danny Boy and Other Songs I Love to Sing.
Andy Williams - Moon River.rar
Размер:
884,8 МБ
https://yadi.sk/d/zboxhhDZsrwhP